Bromberg & Associates
Categories: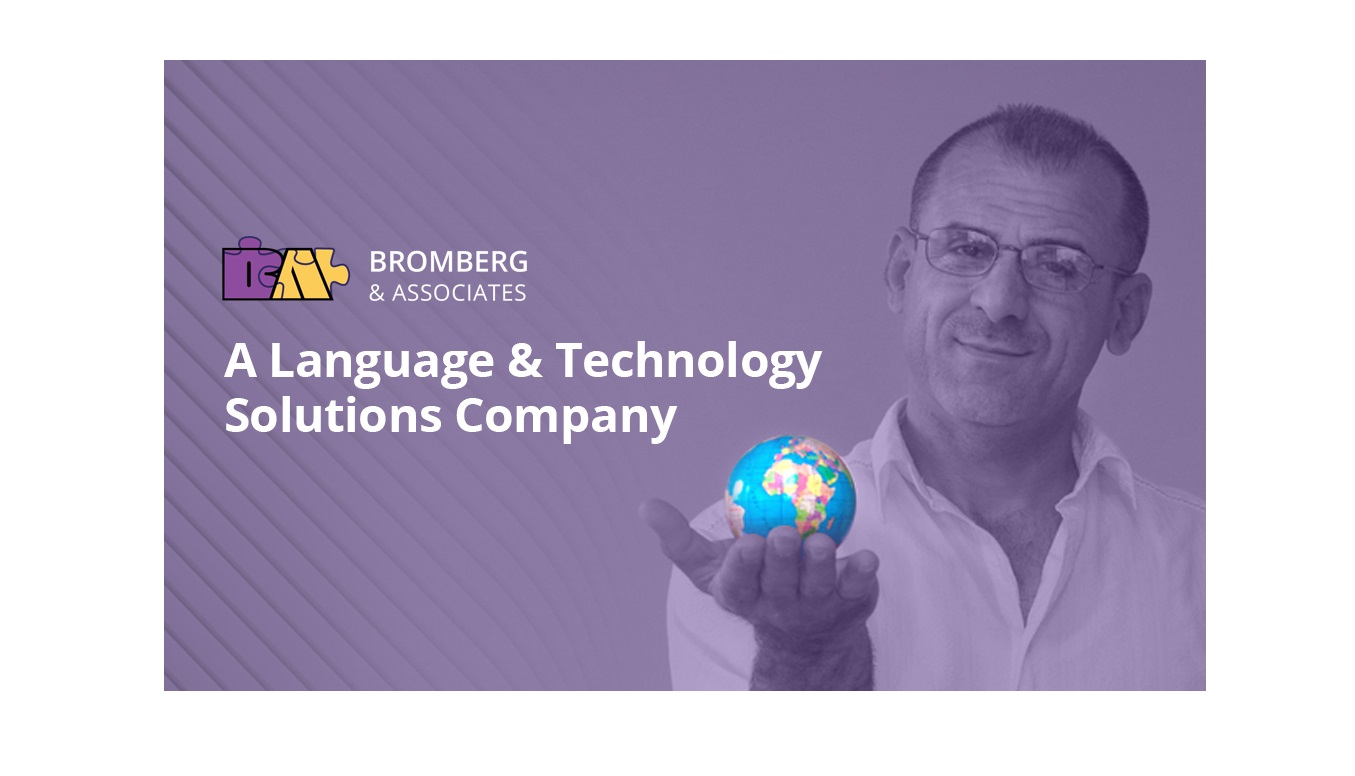 Established in 1999, Bromberg & Associates is a comprehensive language and technology solutions company. The company quickly grew from a basement start-up to an award-winning internationally recognized language solutions company.
We cover the entire linguistic and cultural spectrum and work in over 200 spoken and signed languages, with clients in a variety of industries in the US and globally. Our services and vast experience include Telephonic, Video Remote and On-Site interpreting, Document Translation and Desktop Publishing, Subtitling, Dubbing, Captioning and Voice Over, Language Training, Multilingual Marketing & Website Localization, Cultural Awareness Training and Federal Language Access Compliance Consulting.
Bromberg has also developed its own technology platform for Video Remote and Telephonic Interpreting: VRI Gateway. Spoiler alert! A new version of the app will be released later this year, and it will be renamed Gateway to Access. As a quick overview, below are the main updates:
– A URL version will be available together with the app.
-Users will be able to do telephonic and video calls in the app.
– A new scheduler tool will be available for users to preschedule a job with an interpreter.
A big part of our day-to-day operations involves supporting language access for government entities, healthcare systems, courtrooms, schools, and a variety of other institutions and organizations. We also work extensively with multinational corporations, as well as small businesses looking to market their services and products overseas or to non-English speakers nationwide.
Bromberg & Associates is a DBE, WBE and WOSB certified business and a GSA Federal Supply Schedule Award holder.
Our Award Winning:
2021 The Best of MichBusiness – Economic Bright Spot Award
2020 The Best of MichBusiness Michigan Celebrates Small Business
2019 Corp! Magazine Salute to Diversity Award
2019 Corp! Magazine Economic Bright Spot Award
2017 Technology Guru Award by MichBusiness
Our Memberships & Certifications: (We can add relevant logos here)
ASTM 3130-18 Certified Company

The certification demonstrates that Bromberg provides high quality language services that consistently meet and respond to the many and varied needs of our clients.
GSA Multiple Award Schedule Contract
A pre-negotiated contracting vehicle for federal agencies that simplifies the procurement process, allowing Bromberg & Associates to better serve customers in the federal government, providing 24/7/365 language services for Limited English Proficient.
ATA – American Translators Association
GALA – Globalization & Localization Association
ALC – Association of Language Companies
NCIHC – National Council of Interpreting in Health Care
WBENC – Certified Women's Business Enterprise
RID – Registry of Interpreters for the Deaf, Inc
Bromberg & Associates works with a pool of over 4,000 professional interpreters and translators globally to cover the entire linguistic and cultural landscape, from interpreting and translating to cultural awareness training and compliance consulting.